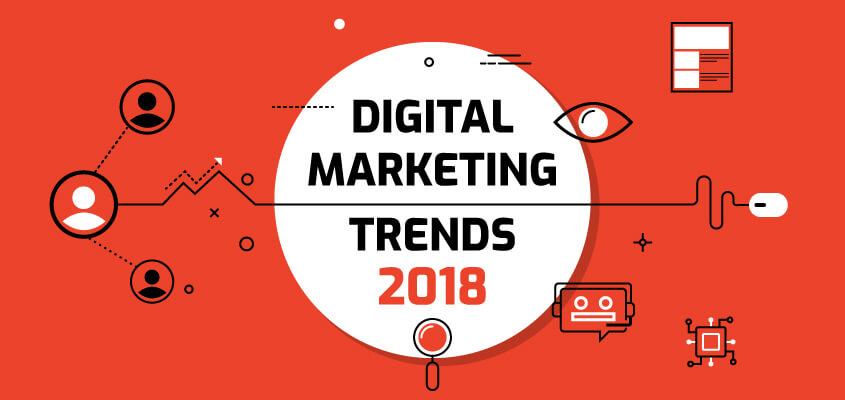 10 Mar

Top Digital Marketing Trends To Watch In 2018
Top Digital Marketing Trends To Watch In 2018
By Sanjeev Kalia – Digital Marketing Expert (CEO OYE Group)
It's time to take a look at what worked and didn't work in your marketing last year. In going through that exercise, I encourage you to test some new tactics for the year ahead. Below are six trends to keep an eye on and how to apply them.
'Mobilfication'
We've heard about mobile for the last few years, but for some crazy reason, many businesses are still not taking action. Stand in line anywhere nowadays and watch what people are doing. I can assure you they have their face buried in their mobile device. Mobile will continue to be a top priority for marketers for years to come.
Put a mobile strategy in place to engage with your prospects and customers. This means creating a mobile website which is very responsive (try Angular JS or Knockout for best results) but, depending on your business, mobile elements might include the ability to send text messages to your customers. For example, the restaurant industry can get away with sending texts once a week with specials, whereas a doctors office would be hard-pressed to send something so regularly.
I'd suggest starting off by sending two messages a month, one fun text and one promotional with a call to action. Once you get started, you'll be able to quickly gauge how many messages your audience will respond to.
Media Properties
What type of business are you in? Regardless of your answer, I would challenge you to start thinking about your business as a media company. Where do you get most of your information about what's going on in the world? Whether you read your news online or still read a paper copy, the news controls the conversation for the day, week or month.
The best way to control the conversation in front of your prospects and customers is to get in front of them with quality content. Launch one media platform that's 100% focused on providing helpful, authentic content to your end customers. This could mean a podcast, a well-written and thought-out blog or even a livestream video that you film on a weekly basis. The business that produces the best (and most) content will come out on top.
Chatbots
Chatbots are all the rage as of late and for great reason. If you're not familiar, think of them as a tool on the other side of a computer that can respond to your customers' questions or comments. Chatbots are used for engagement, customer service issues, general questions and even closing business.
I've been testing them out the last six months and the results have been off-the-charts. The crazy thing is, if you set up the bot correctly, it's very tough to tell if you're talking to an actual person or a bot.
Launch a website or Facebook chatbot to engage with your prospects. Find something fun or engaging to start the conversation, as the prospect needs to initiate the chat. I'm a huge fan of data-driven marketing and have seen open rates exceed 80% or higher with an engaged audience. So, if you send 1,000 messages via your chatbot tool, chances are high that at least 800 people will see your message. Those rates are far superior to email open rates, making this a unique channel not to ignore.
Reviews
Organic traffic from SEO continues to be one of the best sources of web traffic for many businesses. While there are a lot of elements involved in ranking, the number of reviews you have is a key factor. Google looks at your Google reviews, Facebook reviews, Yelp reviews and more. Why would Google want to prioritize a business in the search rank that has a one-star rating?
While your reviews are essential for search engine rankings, they can also make or break a sale for you. According to research, half of adults under the age of 50 regularly check online reviews before purchasing a new item. What will they find? I hope a substantial amount of positive reviews that makes the decision easy.
Video
I expect to see more Facebook Live videos and a rise in web TV. In many surveys out there (like this one), consumers say they much prefer video over text. Video helps tell more compelling stories, gets your point across faster and can improve sales. Video on a landing page or sales page, for example, can help increase conversions by as much as 80%, according to research.
Get started by committing to doing four videos per month. Whether you do a Facebook Live, YouTube video or a video for your website, it doesn't matter. Get into the habit of producing quality video content for your prospects and customers.
Branding Versus Direct Response
Telling your story versus telling people what to do is critical. To paint a more vivid picture, let me provide an example.
Educators Credit Union, a client of ours, hosts dozens of events throughout the year that provides value to their members and portrays their brand to the community. Several times a year, they host a shred day, allowing members to bring their papers to be shredded at no cost. Their team is there to help and makes it a fun, community-based day. There are no fancy calls to action. Instead, they're continuing to keep their name out in the community and telling their story.
Stop focusing all of your attention on the call to action and make sure you're delivering value first, telling your story and portraying your business in the best possible light.
Above, I've provided six trends. Pick one and execute. Ready, set, go!
Put together a solid plan for getting reviews for your business. Be careful not to incentivize people (as this is not allowed), but instead have a system for asking for reviews.