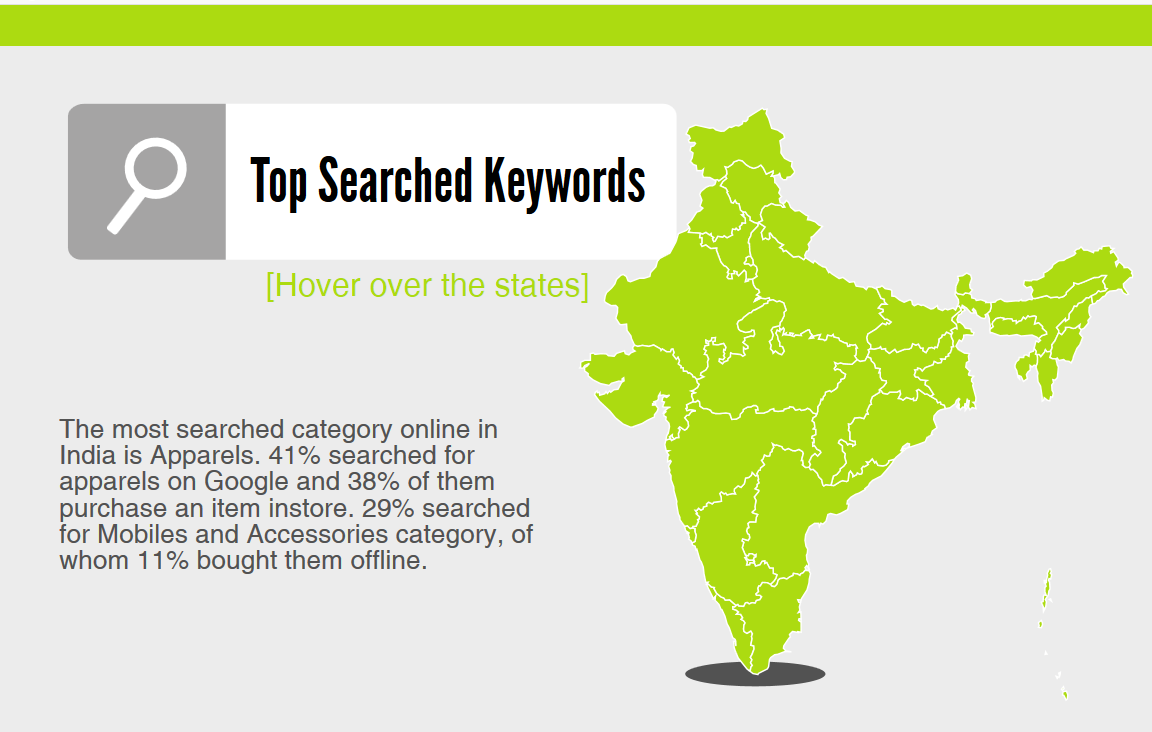 05 Dec

Insight on Online Business in India – Infographic on Digital Consumers

It's a good idea to start by looking at the typical demographics of the digital consumers in India.
On an average day, about 40 million Indian consumers are online. The Internet has helped in bringing the urban and rural consumers of India closer. As the infographic suggests, 64.71% of the Internet users are from the urban areas, whereas the rural consumers constitute 35.29% of total online consumers in India. This is helped in making this huge market more accessible for the brands and marketers alike.
Why this trend though? You may ask.
As you'd agree, the Internet penetration in India and strongly correlated to the mobile and cellular connectivity. India has over 700 million mobile phone users and a whopping 44% of them are from the rural areas. So, the mobile-enabled web has given the marketers an unprecedented access to attracting higher traffic to their online portals, such as, ecommerce, mobile apps, mobile banking and other financial services, etc. that have given a massive boost to the profitability.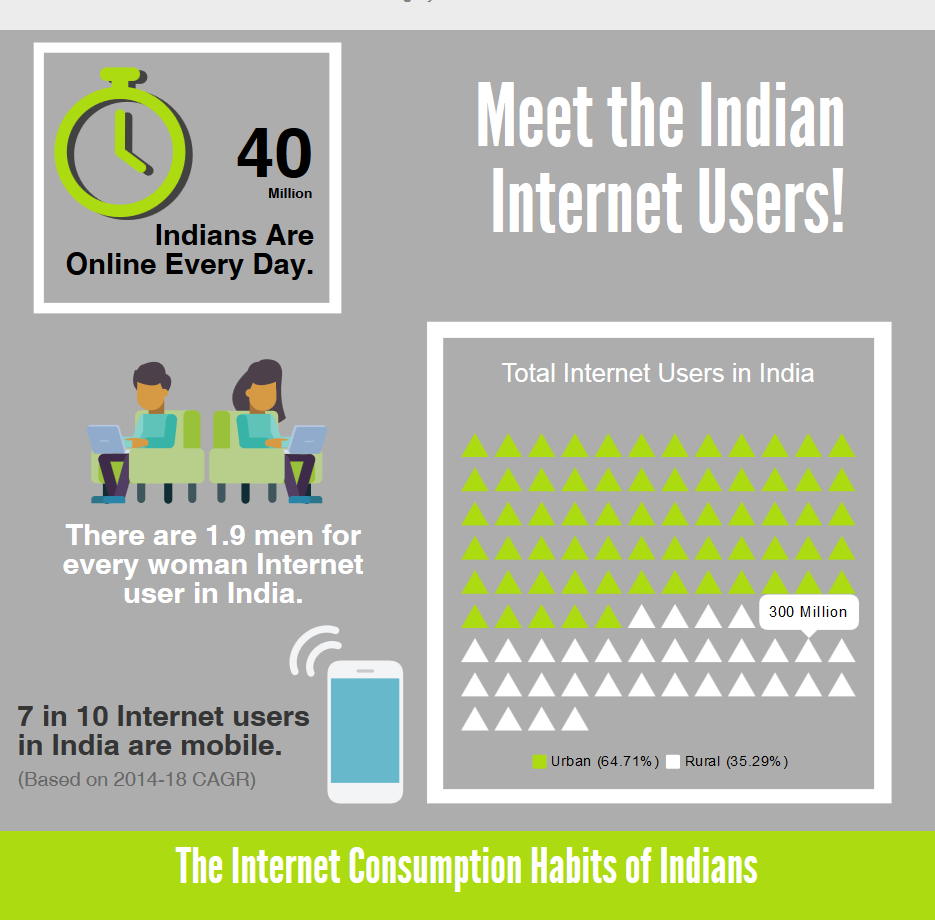 Digital attracts all genders equally in the country, yet the males are predominantly a high-consumption segment, as shown in the infographic. On an average, there are about 1.9 males for every female Internet consumer in India. So, the web has become the new normal across genders. And this penetration is not a product of the consumer's relative product involvement.
The online purchases are no longer restricted to high-value products or services. If the 2016 trend is to be believed, the Indian consumers are becoming more dependent upon the online retail stores like Amazon, BigBasket, Grofers, Reliance Fresh, etc. A combined report published by Google and BCG suggests that the digital payment of the online Indian consumers is expected to rise to INR 33,347 billion by 2020. And this adoption is attributable to the increasing mobile and social penetration as well as the consumers' growing willingness to pay on the Internet. And the millennials are the topmost online consumer segment in India. Okay, now that we know who the Indian online consumers are, let's look at their typical activities when online.
How Indian consumers spend time online?
The infographic suggests that an average Indian Internet user spends about 40-45 hours online every month. That's over one and a half hour every day approximately. And that, as you'll guess, is toward the lower end of the average. Downloading music is the most popular online activity among the consumers in India with an average of 19.38%. And those, who are not downloading the music, are typically listening to songs online with a mean of 14.38%. The digital music distribution in India is on the rise. It includes both paid downloads of single tracks or free downloads.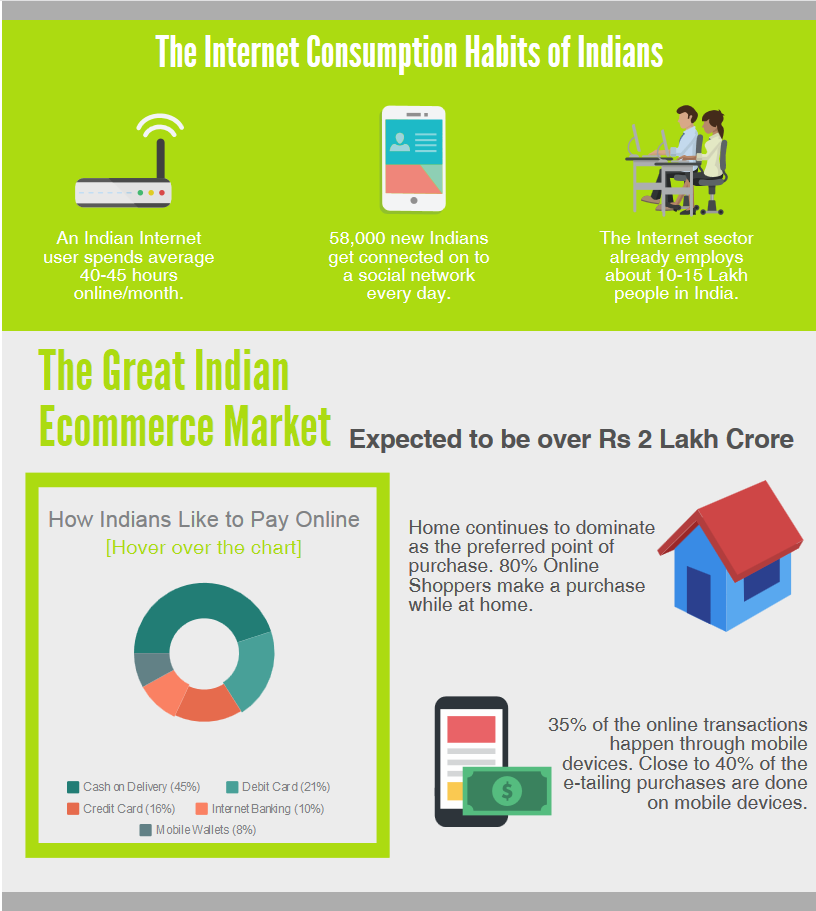 Those who do not prefer paying for downloading the songs, use the online music stream websites. And picking up on this demand for online free music, the streaming websites are leveraging this engagement by making their services subscription-based or ad-supported. A similar trend is also observed for the websites that offer online radios, video song streams or even audio books. About 10.30% of online Indian consumers indulge into downloading videos.
Those who watch or prefer watching videos online aren't too far behind either with an average of 6.88%. The next popular online activity among the Indian consumers is playing games on the Internet. Rummy websites have picked up in terms of popularity among the Internet users in India by a greater degree of late. The increase in the usage of online gaming sites or the gaming apps is due to the fact that they are offered as a freemium product mostly.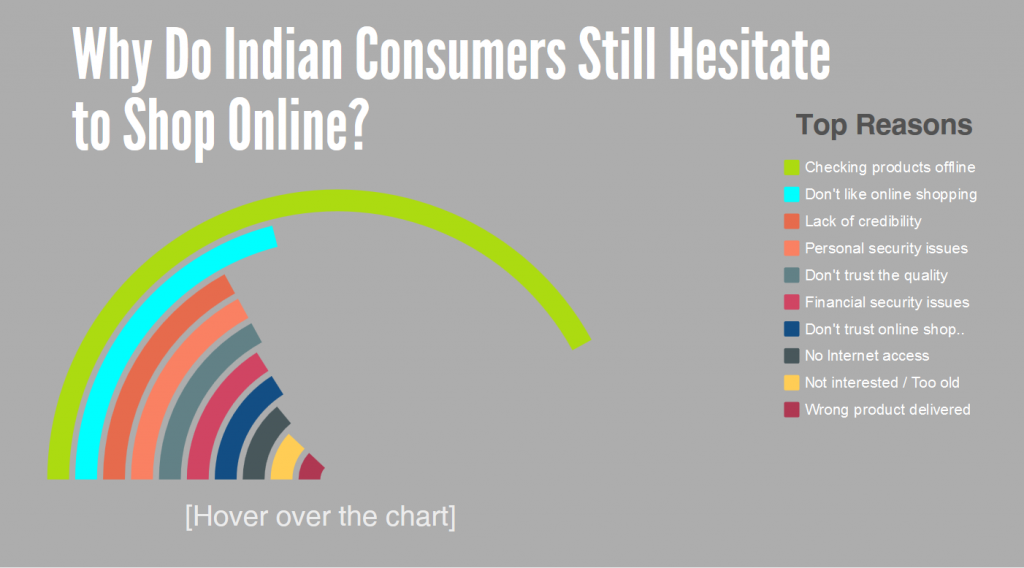 Consumers in India are still showing their reluctance to pay for playing online games. VR games (virtual reality) are also slowly gaining in consumption, but not too fast like other online and mobile games again due to the price-sensitive psychographics of the Indian consumers. Something that's still to be explored at an extensive level in India is Spectator gaming on the Internet. This is much popular in the Easter Asian countries like Korea, Japan and China.
The experts predict a projected rise in the consumption of online gaming in India owing to PaaS (Platform as a Service). While these are the trends amongst the millennial online consumers, the older generations like baby-boomers prefer reading online news (7.50%), browsing knowledge websites (6.88%), visiting cooking websites (3.75%), watching TV shows (3.43%), downloading TV shows (3.75%). Other than these, the popular Internet activities in India include doing research (2.50%), watching sports (1.88%), reading classifieds (3.44%), checking scores (5%), or visiting matrimonial websites (0.62%). Now you must be wondering, what about Social Media? Well, for that we need a separate Infographic and we will be working towards publishing the social media statistics and trends related infographic soon. Just to give you a synopsis, every day about 58,000 Indians get connected on to a social network. We're sure, you get the gist, right?
Are Indian consumers willing to spend online?
According to the infographic, the ecommerce market in India is expected to be over INR 2 Lakh Crores. However, the consumers prefer cash on delivery (COD) as the mode of payment when making online purchases (45%). The next most popular mode of payment is using debit cards (21%), closely followed by using credit cards (16%). Internet banking (10%) and mobile wallet apps (8%) are not too far left out too. Home continues to be the dominant point of online purchases with 8 in 10 shoppers making a purchase while at home. An interesting trend is that 35% of the online purchase transactions take place on mobile devices. Close to 40% of the e-tailing purchases are done through mobile.
The infographic also suggests that there is still a certain level of hesitation among the online consumers in India when it comes to shopping online, especially so in the non-metro and lower-tier cities. The top reasons cited in the infographic are: 1) They still prefer to check product offline (42%); 2) They simply do not like online shopping yet (21%); 3) They don't see online shopping as a credible source (17%); 4) They relate personal security issues with making online payments (17%); and 5) They don't trust the quality of product purchased through the Internet websites (17%).
How are Indian consumers searching for businesses and products online?
About 6 in 10 online consumers in India begin their purchase journey by carrying out a search in Google. And about 3 in 5 consumers look up other consumers' reviews before buying a product. This clearly shows that search plays a decisive role in a typical online consumer's purchase related decision in India. In this infographic, we show the most searched keywords in India, state-wise. These statistics are based on their most recent search behavior as observed on Google. As is evident, the most searched product category in India is that of apparels with about 41% of the search share. Over 29% of consumers actively search for mobile phones and accessories online and more than half of them end up buying them in-store.
Bollywood and politics have been the most searched topics on Google. People tend to search for the upcoming movies or their favourite celebrities, etc. And as the election season in on currently, people have been searching about their potential candidates and even the national parties as early as six months in advance. Popular TV shows such as Bigg Boss, Roadies, etc. also received a lot of searches as people are looking for the behind-the-scene footages and more information about their favorite contestants. Commercially, mobile phones as well as cellular plans are the most popular search topics, for example, a lot of online consumers in India showed a lot of interest in knowing about Reliance Jio upon its launch. Other than that, the younger Internet users also look up competitive exam related information on Google.
In the travel segment, people carry out searches related to newer destinations, especially outside India, in order to plan their trips and tours. Music as well as international affairs also pull a great amount of search volume in India. These are some common trends observed across different parts of the country as shown in an interactive map in the infographic.
The Internet and the business fraternity in India
The online consumers in India are increasing at a CAGR of over 20% according to the latest industry reports. And this increase in the Internet user base has a direct and significant impact on the country's GDP. A recent report by Indian Council for Research and International Economic Relations suggests that for every 10% increase in the Internet user base on an average in India, the GDP is positively impacted by a 1.08%. The digital infrastructure has helped in overcoming the shortage of alternative infrastructure and other industrial advancement resources. At the same time, the Internet has played a major role in offering equality to all types of businesses.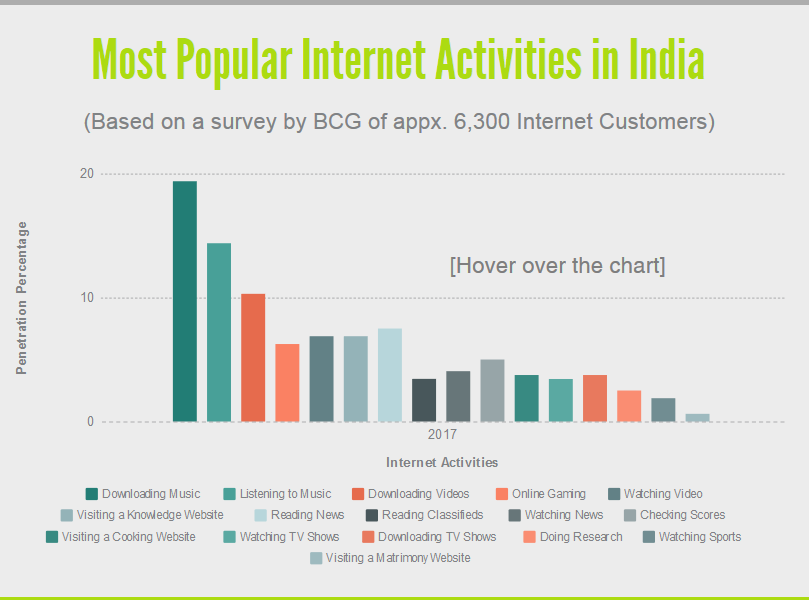 As shown in the infographic, a BCG report suggests that ecommerce portals are the highest contributing Internet business segment (34%). This is closely followed by online advertising and classified service providers (25%). But, the major hero, without a doubt is online content which contributes as big as 31% to the nation's GDP.
The contribution of the web-enabled mobile devices is 16% and so is the contribution by the cellular connectivity services. The government spending on the Internet contributes about 19% of the GDP in the country. On the other hand, the Internet has had a major impact on certain business sectors in India. The infographic shows that Air Travel and PC and mobile accessories businesses appear to have benefitted the most through the use of digital as part of their business operations across the country. The Internet has a significant footprint as well as influence on these top five sectors: Air travel, PC and mobile accessories, air conditioners, cars and hotels and holidays.
If we talk about the online advertising statistics in India, the total online advertising spend is estimated at INR 7,000+ crores. Search ads have the highest chunk of this money (38%). Due to the increase in the ecommerce portals and their offerings, the businesses have shown a tremendous interest in display advertising (29%). The mobile advertising spend is also increasing in the country as the mobile penetration continues to grow in the rural and suburban parts of the country. Email advertising and video ads on platforms like YouTube, Vimeo, DailyMotion, etc. have also seen a massive upsurge in terms of usage in the recent times.
There are many other things that are worth a mention here, but due to the space, we have only highlighted those trends and stats, which you may not be able to find at other usual research portals. We aim to bring you more such recent industry statistics so that you can make an informed decision about bringing your business in the digital space.
Do you have stats that you would like to share with us? Or maybe offer some insights related to the current state of the digital in India?
Please feel free to write to us info@oyeonline.com or call us at +91 9811420446